In the past two months,
no fewer than 13
companies have adopted the Better Chicken Commitment, a set of standards that will meaningfully improve chicken welfare in each company's supply chain. Since 2016, Mercy For Animals has been part of a
coalition effort to reduce the suffering of chickens
used for meat. So far, more than 200 brands, including Subway, Starbucks, and Papa John's, have pledged to do better for these animals.
The Better Chicken Commitment addresses the most pressing welfare concerns associated with the treatment of chickens raised for meat. It includes a commitment to transitioning to higher-welfare strains of birds, improving living conditions, and ending the horrific practice of live-shackle slaughter.
One of the companies to adopt the Better Chicken Commitment most recently is
Popeyes Louisiana Chicken
—the third-largest chicken chain in the United States! Leah Garcés, president of Mercy For Animals, shared:
Every year billions of chickens suffer in our food system. We commend Popeyes, as one of the largest purchasers of chicken in the country, for taking a significant step toward reducing the suffering of chickens with their new policy. It also makes clear that if the king of the chicken sandwich can commit to treating chickens better, there's no excuse for any of their competitors, such as McDonald's, KFC, and Chick-Fil-A, not to follow suit.
Other exciting recent commitments have come from Zoë's Kitchen, Shari's Cafe and Pies, Hain Celestial, CAVA, Saladworks, Panago Pizza, Sunset Grill, Humpty's Restaurants, CRAFT Beer Market, Grandcestors, Square Baby, and Bilinski's.
The surge of new commitments since the beginning of December will put further pressure on companies that have failed to commit to better treatment for chickens, such as
MOD Pizza
and Freshii.
MOD Pizza has over 400 locations across the United States and allows horrific abuse of chickens in their supply chain. Factory farms nationwide pack chickens into dark, waste-filled warehouses. Chickens are commonly bred to grow so large so quickly that many suffer organ failure, heart attacks, and crippling leg deformities, often becoming immobilized in their own waste. Many even die before they reach slaughter weight.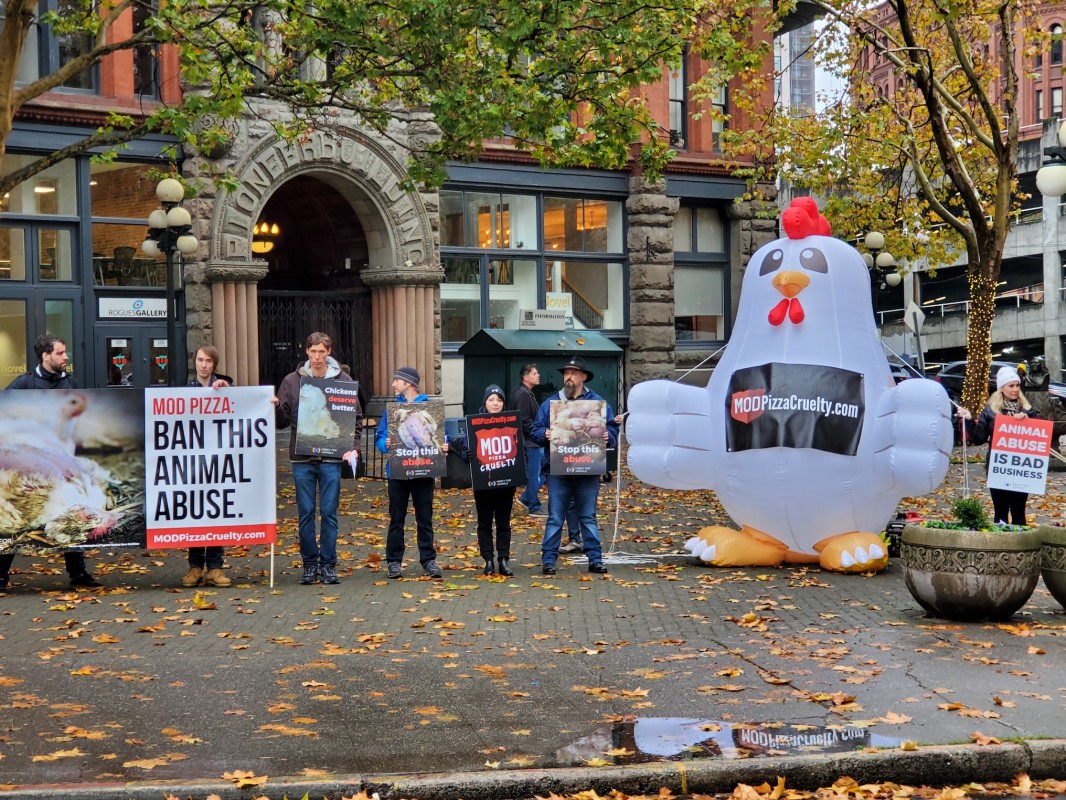 Mercy For Animals has repeatedly urged MOD Pizza to join competitors Blaze Pizza, Chipotle, Starbucks, &pizza, Mellow Mushroom, and Papa John's in adopting the Better Chicken Commitment. So far, MOD Pizza has failed to do so.
While companies are not always motivated by what is right, they all value public opinion. Want to make a difference for chickens? Head over to Instagram, Facebook, or Twitter and thank companies like Popeyes and CAVA for adopting the Better Chicken Commitment! Or find
MOD Pizza
and
Freshii
on Instagram and ask them to join more than 200 other brands in agreeing to treat chickens better.